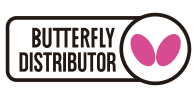 Butterfly PT Conversion Top By Butterfly
Full Foam Backing To Protect Your Pool Table Warranty: 3 Years
Top: 19mm
Assembly: Fully Assembled
The Butterfly PT Top fits directly on top of your pool table.
It is the same dimensions as a full size table, 9Ó x 5Ó.
The underside of the tops are completely covered with a foam backing to protect the surface of your pool table.
It is 19mm thick and supported by a metal rail.
Comes with a Butterfly Clip Net Set.